To have your arts event listed in this calendar, please send the following to communications@cacv.ca by the 15th of each month for events that begin or take place in the following month:
Title
Hyperlink
Date(s) & Time
Description of event
Location & Address
The calendar is refreshed on a monthly basis. Events by CACV members are also listed each month in the CACV newsletter.
---
February 2021
---
A Valentine's date with MAD Jazz!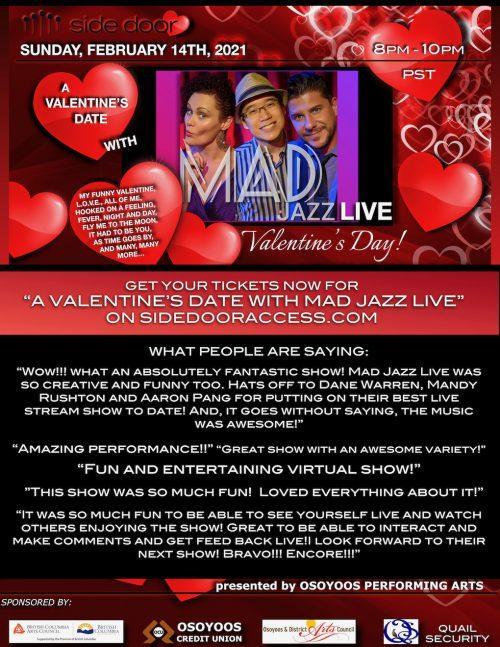 Osoyoos Performing Arts presents A Valentine's date with MAD Jazz!
Online over ZOOM on Side Door Access:
February 14, 2021
8:00PM – 10PM PST
A Valentine's Day special event with MAD Jazz, your vintage entertainment provider marks their third themed online concert with Side Door Access. Whether you're spending this Valentine's Day with your sweetheart or it's just a table for one, have a romantic and entertaining evening at home with music from the golden era. Join your hosts Mandy, Aaron, and Dane performing songs from the likes of Dean Martin, Judy Garland, Bobby Darin, Peggy Lee, Tony Bennett, Ella Fitzgerald, Frank Sinatra, and many more…
Pour the wine… Curl up… and enjoy!
For Tickets: https://sidedooraccess.com/shows/aqOM0I59PWo9CFGdRy7U
Website: https://danewarrenentertainment.com/
Follow on Social Media: https://launchlinks.io/u/madjazzlive
---
January 2021
---
Outsiders and Others Exhibition – Opens Jan 4, 2021
Valerie Arntzen & Seema Shah: Collage Works
January 4 – 31, 2021

Valerie Arntzen has lived and worked in the Strathcona neighbourhood for 27 years. Her art practice consists of collage, assemblage and photography. This series of collages consist of the artist's own photographs on heavy watercolour paper. Inspiration for her work comes from her travels and interest in religious icons and architecture. Her diverse careers have included drafting, tree planting, live theatre, film and now a full-time artist. She is passionate about her community and uses her studio to host artists in her storefront windows and events for artists to come together to make art and learn from each other. The building she owns with her husband and another couple is home to other artists working in mediums such as painting, studio furniture, mixed media and photography. Not bad for a gal who as part gypsy travelled around in her converted vehicles which were home and transportation.

From Seema Shah: "I am a self-taught visual artist and writer. Since 2014, my creative focus has been visual art (though I often incorporate text into my art). Although I didn't set out with the intention of becoming a collage artist, my visual work almost always includes an element of collage. I was innately drawn to the piecing together of disparate elements to form a new meaning and aesthetic " trying to create something of value from scraps that would otherwise be thrown away. The process itself is a metaphor for many aspects of my life and self.

When creating, I always start from a place of intuition, with no set idea in mind. If I am able to let my subconscious be my guide, the process unfolds in a way that can feel almost magical. I search for images, colours, and words that speak to me at the moment, even if it's not yet clear to me why. Through much reconfiguring, meaning tends to reveal itself as I go, often obliquely, such as through the use of metaphor, characters and/or humour. Invariably, my collage work is a reflection of my inner landscape. Over time, I often discover additional layers and meaning in a given piece."

Location: Outsiders and OthersAddress: 716 East Hastings Street, Vancouver
Gallery Hours: 7 days a week, 24 hours a day

The gallery is a window based experience where you can see an entire exhibition through a storefront window.

Exhibitions are also viewable online: www.outsidersandothers.com

---
October 2020
---
MAD Jazz LIVE Shows!

Friday, Oct 16th – Culture Days Edition. Richmond & BC Culture Days Livestream show 5/6. Oxley Gin from LONDON, UK taste test and sampling care of our sponsor: JAKS Liquor for International Gin & Tonic Day (October 19th/2020). 8 pm – Approx 10 pm PST.
Friday, October 23rd – Culture Days Edition. Richmond & BC Culture Days Livestream show 6/6. 8 pm – Approx 10 pm PST.
Friday, Oct 30th – Halloween Special Dress-Up Edition. 8 pm – Approx 10 pm PST.
Friday, November 6th MAD JAZZ LIVE Proudly Presents: Francis Albert Sinatra & Antonio Carlos Jobim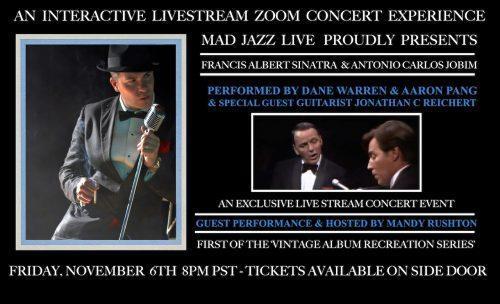 Let us take you blissfully away this November to the Bossa Nova Sounds of Brazil! The first in their "Vintage Album Recreation" series with Special guest Jonathan C. Reichert (Guitar) & Host Mark Busse (CreativeMornings Vancouver, BC Chapter) & (Side Door Curator/Producer& Host) & Mandy Rushton The "M" in MAD Jazz as well as your former BC Culture Days Ambassador for Vancouver, BC (2018). 8 pm – Approx 10 pm PST.
Check us out on your favourite platform: https://launchlinks.io/u/madjazzlive
---
September 2020
---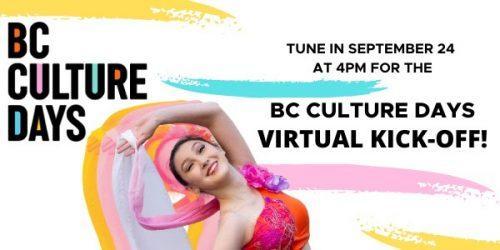 You are invited to attend the BC Culture Days Virtual Kickoff Event!
Join us for the launch of the 11th annual Culture Days celebration (September 25 – October 25), featuring an array of free and Pay-What-You-May, online and in-person arts and cultural experiences.
BC Culture Days 2020 will officially kick off with a 45-minute virtual event on Thursday, September 24, 2020, at 4pm PST, hosted by the City of North Vancouver and spoken word poet Andrew Warner.

The cultural event will feature:
We look forward to kicking off this year's celebrations with you at CultureDays.ca or on Facebook at @BCCultureDays!
---
August 2020
---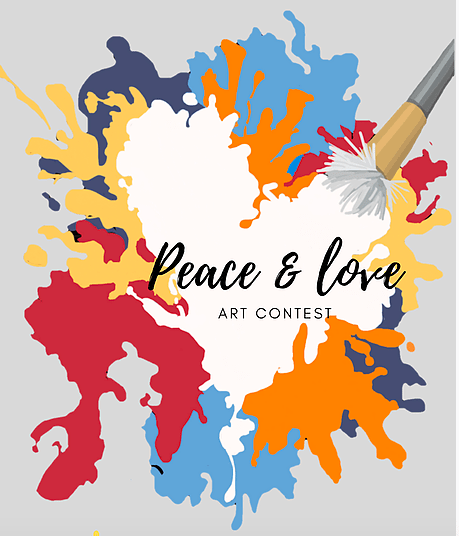 The Peace & Love art contest is an opportunity for elementary and high school students to demonstrate their creativity in expressing themselves regarding the COVID-19 pandemic as well as ongoing racial inequality. Submissions are open until August 30. You can also make a donation, with proceeds going to the St. Paul's Foundation.
---
July 2020
---
2020 Queer Arts Festival "Wicked"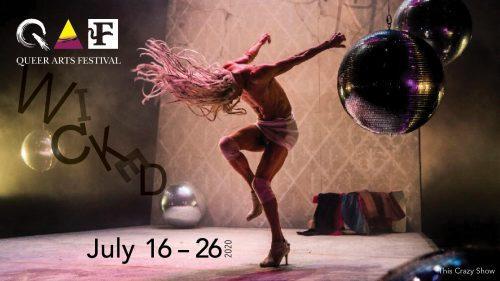 Date and Time: All day July 16th – 26th 2020
QAF Offices: 268 Keefer Street, Vancouver, BC
Our 2020 Festival is going digital! Reserve your tickets at the link!
Online Registration: https://www.eventbrite.ca/o/queer-arts-festivalsum-gallery-13559570191
The 12th annual Queer Arts Festival "WICKED": Vancouver's artist-run, professional, multi-disciplinary roister of queer arts, culture & history returns July 16 – 26, 2020.
We've re-imagined the festival to provide you your Queer Art fix from a (digital) distance. Please visit our website to find out how you can experience all our amazing events!
Website: https://queerartsfestival.com/
---
June 2020
---
Art Downtown
Date and Time: June 17th – September 11th, every Wednesday and Friday from 11-2pm
Location: Lot 19 (855 W Hastings Street, V6C3N9) on Wednesdays and Cathedral Square (566 Richards Street, V6B2Z5) on Fridays.
Art Downtown is a new summer program aimed at supporting local artists and sharing art with the community during these difficult times.
The Art Downtown program will take place bi-weekly between June and September, and will consist of artists creating and showcasing their artwork to the public every Wednesday at Lot 19 and every Friday at Cathedral Square, starting on Wednesday 17th June at Lot 19.
For all of the dates, times and locations, please visit https://www.vanvaf.com/art-downtown
We hope you can join us in supporting all artists.
Art Downtown is organized by The Vancouver Visual Art Foundation and the Downtown Vancouver Business Improvement Association (DVBIA).
This event is weather dependent. Please see our Facebook page for updates on cancellations https://www.facebook.com/artvancouverexhibition
---
April 2020
---
YKLM Auctions Canada to Host Benefit Auction in Support of the VGH & UBC Foundation

Online Benefit Auction: April 02 – April 06, 2020
Hours: starting at 12:00pm and ending at 12:00pm (Advanced Registration Required)
Online Registration: https://live.yklm.ca/register
Preview Items Online: Monday March 30 – April 06, 2020
YKLM Auctions is pleased to work with our community of artists to host a charity auction benefiting the VGH & UBC Hospital Foundation. Through YKLM's resources and online platform, 100% of proceeds will be donated to support the Vancouver General Hospital's most urgent needs. This online auction will begin on Thursday, April 2nd at 12 PM (PST) and run until Monday, April 6th at 12 PM (PST).
The local artist Agent X, better known as the Canadian Banksy, has graciously donated ten prints for this sale, featuring refined florals and colourful Pop Art works. Following his training at the Art Institute of Vancouver, the artist developed his own mash-up style, which combines vibrant accents of colour set against various mixed media. In his striking works, Agent X presents a less superficial version of Pop Art, by juxtaposing the ephemera of the past with the glossy aesthetics of print culture. His works are collected internationally, and YKLM is pleased to be working directly with the artist for this event.
All works are printed locally by WetINK Fine Art, located on Bowen Island, BC. We thank Jon Smith and his team for their generous contribution.
For inquiries in English, please contact Emily Cavanagh (236) 866-0008 or email: emily.cavanagh@yklm.ca
For inquiries in Chinese, please contact Toni Zhang (778) 708-1582 or email: toni.zhang@lipont.com
---
March 2020
---
The Barclay Manor Painting Group Exhibit: SPRING INTO ART
Date: March 9-27, 2020
Hours: Mon-Thurs 9am-10pm, Fri 9am-9pm, Sat 9am-5pm, Sun 10am-5pm
Location: West End Community Centre Display Gallery at 870 Denman St, Vancouver
The public is invited to SPRING INTO ART – The Barclay Manor Painting Group Exhibit. The exhibit of watercolours, acrylics, and oils can be viewed during WECC open hours. The show sponsor is the West End Seniors' Network (WESN) Barclay Manor Seniors' Centre.
---
February 2020
---
Show One Productions: Les Ballets Trockadero de Monte Carlo
Date: February 1, 2020
Time: 8:00 pm
Venue: Queen Elizabeth Theatre, 630 Hamilton St, Vancouver
Show One Productions presents the much anticipated return of the world famous, all-male ballet company, Les Ballets Trockadero de Monte Carlo, onstage February 1, 2020 at 8pm at the Queen Elizabeth Theatre. This sensational performance will showcase the Trocks' wickedly absurd antics and serious dancing chops — featuring sly send ups of beloved ballet classics Swan Lake and Le Grand Pas de Quatre. Infused with a heavy dose of highbrow hilarity, this antic-laden production will have audiences cheering from their seats in a no-holds-barred celebration of fabulous frothy fun.
Tickets from $25 (plus applicable fees) at TicketsTonight.ca
Info: ShowOneProductions.ca
---
January 2020
---
PuSh International Performing Arts Festival presents:
FRONTERA – January 30, 2020 at 8pm
PuSh International Performing Arts Festival (PuSh) presents the Western Canadian premiere of Dana Gingras' FRONTERA in a one-night only performance on January 30, 2020 at 8pm at the Queen Elizabeth Theatre.
Gingras' internationally lauded dance company, Animals of Distinction, collaborates with the experimental post-rock band Fly Pan Am and members of the UK-based collective United Visual Artists to create a provocative multimedia experience of motion, sound, and light.
The dancers on stage challenge our notions of agency, moving frenetically to the music's clarion call and against the towering rays of light. Virtual constructs alternatively guide, divide, and entrap the dancers — but ultimately cannot defeat their fearless physicality and ingenuity.
Tickets from $39 at pushfestival.ca
Early Bird Offer: $20 off tickets in Price Level 1 ($79.50) and 2 ($59) until November 27.
---
Past Events
---
Roedde House Museum presents Jazz Evenings in the Parlour:
Featuring Karin Plato with John Reischman and John Miller
Thursday, December 12th, 7-9PM
Join us Thursday, December 12th from 7-9 PM for our Jazz Concert Series in our historic parlour. This evening's performance will present Juno-nominated Jazz vocalist Karin Plato with Juno-nominated and Grammy award winning mandolinist, John Reischman and guitarist John Miller.
Tickets are $15 for adults, $12 for students, seniors and members. https://www.brownpapertickets.com/event/4441316
This concert series is made possible thanks to a Metro Vancouver Cultural Grant and the generous support of the McGrane-Pearson Endowment Fund and private donors.
---
Roedde House Museum presents Classical Concert Series
Winter Wonderland Featuring John Stetch
Sunday, December 8th, 4-5 PM.
On December 8th, we welcome piano great John Stetch to the Classical Series for the first time. This legendary and multi-award-winning Canadian performer fuses Classical technique with Jazz imagination. His Christmas-themed performance, Winter Wonderland, is a must-see, so be sure to purchase your ticket early to avoid disappointment.
Tickets are $15 for adults, $12 for students, seniors and members. https://www.brownpapertickets.com/event/4441308
This concert series would not be possible without the generous support of private donors and the McGrane-Pearson Endowment Fund.
---
Roedde House Museum presents Jazz Evenings in the Parlour:
Cole Schmidt, Peggy Lee, and Kenton Loewen
Thursday, October 10, 2019, 7-9pm
Join us for an evening performance with music by local creative music scene talents and winners of the Vancouver's Mayor's Arts Award for Music, Cole Schmidt and Peggy Lee, alongside JUNO Award winner and cutting-edge drummer, Kenton Lowen.
Tickets are $15 for adults, $12 for students, seniors and members.
---
Roedde House Museum Classical Series Presents:
Da Capo featuring Vancouver Guitar Duo (Stanton Jack and Louise Southwood)
Sunday, October 20, 2019, 4-5pm
The Vancouver Guitar Duo Vancouver native Staton Jack and British guitarist Louise Southwood will perform a concert entitled Da Capo: Guitar Through the Ages on October 20th. Their repertoire is an eclectic mix of original duo guitar arrangements, including Renaissance and Baroque lute works, Brazilian sambas and Bossa novas, and fiery Spanish dances.
Tickets are $15 for adults, $12 for students, seniors and members
---